Mission Statement
Parlor Interactive was formed in 2021 with the mission to build a game app that could be played as a casual real world murder mystery. Our goal was goal to use a thin amount of technology to create memorable gaming experiences driven by socializing. Maximizing social experiences and minimizing use of the mobile device is what we call "Thin-Tech". Our mission statement led to the development of Backstabbers.
Why do we need "Thin-Tech"?
Social isolation because of the pandemic has increased the amount of screen time people experience daily. As people begin to reconnect after this prolonged period, social interactions can benefit from the use of party games. Traditional party and board games demand a considerable amount of attention. The same can be said of most video games. By minimizing the role of technology, our app allows people to focus on socialization and observation as a method of making Backstabbers a simple and intriguing game.
---
Strategic Partnerships
Trout House Tech By partnering with Parlor, Trout House is making our build possible by providing project management, scalable programming talent, and a toolbox of tried and tested solution tools. Incorporating talent in the UX/UI realm and social media disciplines complements an agile development environment based on mentorship. The team from Trout House are excited about our concept and bringing it to life.
---
"We help founders build their product, product teams, and a self-sufficient training program. We invest in underrepresented communities and tailor software training programs for those historically written off by college, coding bootcamps, and society."

Matt Ruiz
---
Founder's Story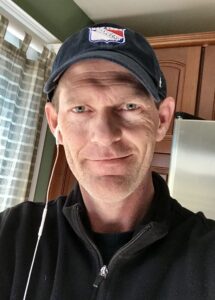 Rick Goffe is a technical professional with over thirty years of experience in various aspects of information technology services. Working through college in desktop publishing led to a full-time position in commercial publishing after graduating from Columbia University ('95). Transitioning to desktop and network support was natural after having been an editor publishing self-help instructional material for Microsoft Office products.
After a number of support positions, Rick returned to Microvideo Learning Systems as their national head of support for their networked video product. This lead to additional positions in network support roles of increasing responsibility, culminating in the Director of IT position at The Doe Fund, Inc. (2001-2010). Working closely with other talented directors and the principle officers, The Doe Fund grew from 15 million dollars a year to 52 million dollars budgeted annually.
Rick's most recent transition, after a decade of network consulting, has been to software development. It started like many other transitions, by learning a new programming language. Swift programming has been Rick's focus for the last four years. As a result, prototyping for Backstabbers began in 2021. Rick is looking forward to bringing Backstabbers to the app stores for everyone to enjoy and making your time together more memorable.